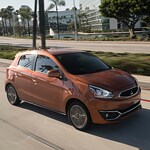 You will want to take a look at the Mitsubishi Mirage if you are looking for a popular subcompact car. This one seems to have a bit of everything. It addition to being well built, it also has one of the more generous warranties in the industry. This should give peace of mind when buying a new car.
You will notice right away that the new vehicle limited warranty is designed to cover most parts on the car for five years or 60,000 miles. You will not have to worry about the cost to repair or replace these parts during that timeframe. There are some exceptions, of course, such as tires and batteries.
The sheet metal on the Mirage is also covered by a seven-year or 100,000-mile anti-corrosion warranty. This shows you just how strong and rugged these components are built to be. Take the car on a test drive when you are next at DON JACKSON MITSUBISHI.