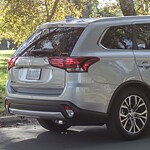 While many people buy sport-utility vehicles for the size and performance they provide, most drivers also put comfort features at the top of their list. Drivers looking for performance and comfort need look no further than the Mitsubishi Outlander. In addition to plenty of passenger and cargo room, this SUV offers a number of features to enhance your comfort, and we here at DON JACKSON MITSUBISHI want to point some out to you.
One of the best comfort features of the Outlander is redesigned seats throughout the cabin. This includes power lumbar support for the driver seat as well as third-row seats that have been upgraded to be more comfortable.
Another comfort feature of the Outlander is the ability to reconfigure the passenger and cargo spaces. The rear seats fold down, giving you more cargo space but also providing a roomier space for passengers when you have less than a full load of people.