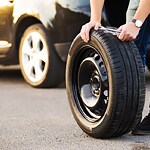 It's important to us as a dealer that you are an informed vehicle owner, especially when it comes to spare tires. There is the compact temporary, commonly referred to as a "donut," and the full-size spare. What is the difference between the two? Read on to find out.
Compact Temporary
The "donut" is smaller and lighter than standard tires. They're convenient because they take up very little space and can get you from point A to point B, but they have certain speed limitations and are only meant to get you somewhere for a replacement.
Full-Size Spare
These spare tires are the same size as your regular tires and won't interfere with ABS or traction, however they still must be treated as just a temporary and changed as soon as possible.
We offer tire replacement services here at DON JACKSON MITSUBISHI, so stop by and see us. Safe travels!