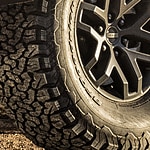 Truck and SUV owners love to take their vehicles off-road. If you are looking to start going off-road on your vehicle, you may be wondering where to make the most of your new passion. Here are two directions to try.
Manufacturer Clubs and Events

There are many automakers that host events where sometimes hundreds of truck and SUV owners show up to go on an off-road adventure. This is a great place to start because you will be in an organized and safe situation.

Off-Road Shops

?Chances are, your local town or city has an off-road shop that sells rugged parts and equipment for your truck or SUV. The staff at these shops are knowledgeable enough to let you know about the best places to take your truck or SUV.
At DON JACKSON MITSUBISHI, we can help you get started with your off-road passion. We offer top parts and quality installation for many trucks and SUVs.